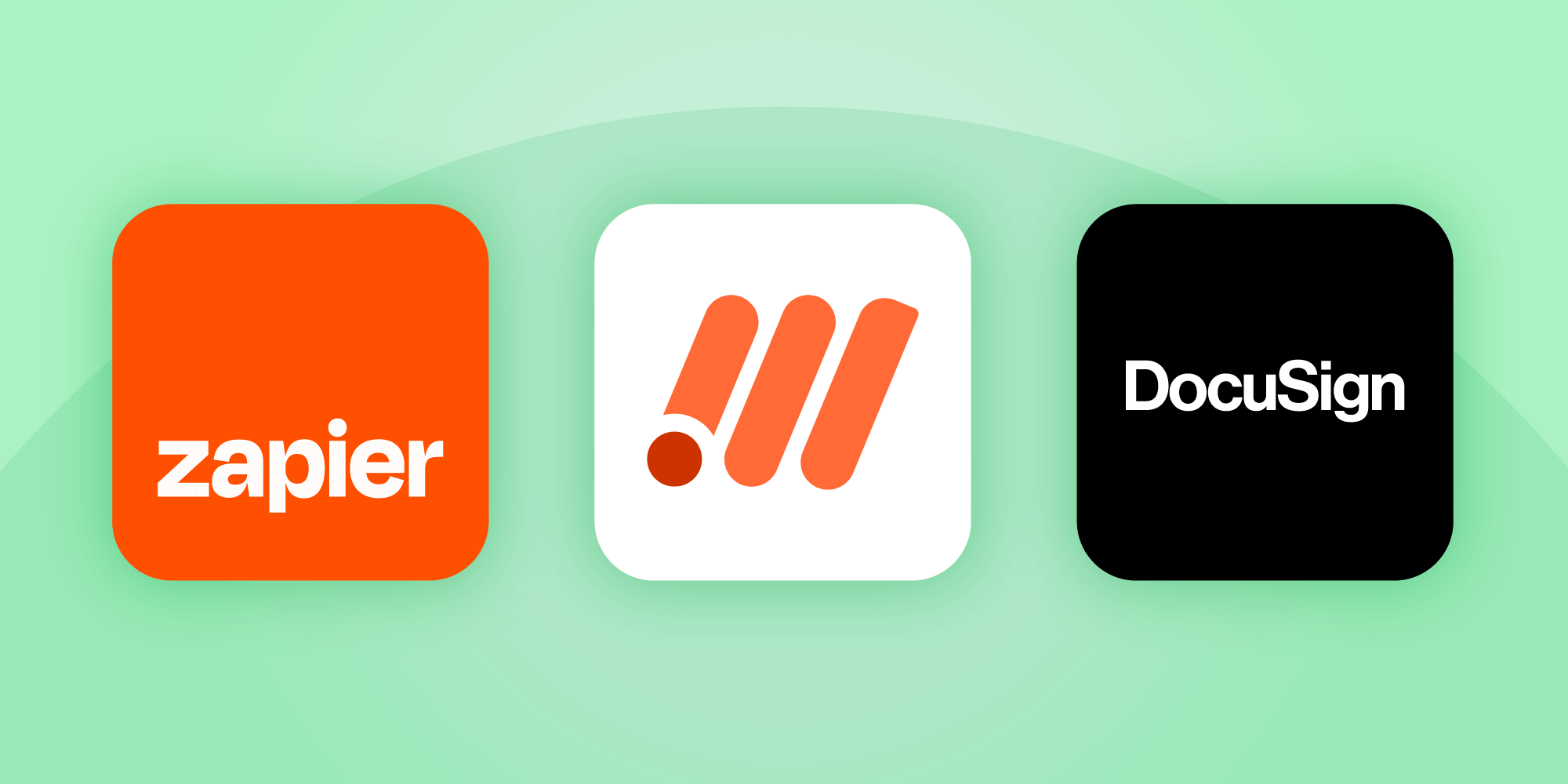 Salesforce and DocuSign brought about revolutionary changes in their respective industries, transforming how business is conducted. Salesforce pioneered cloud-based CRM, while DocuSign revolutionized the process of collecting signatures by digitalizing it securely and efficiently. Now, we can harness both benefits by integrating them into one easy-to-use system. Today we'll explore DocuSign eSignature for Salesforce, Zapier, and eSign Connect as three strong choices for integrating Salesforce and DocuSign. Let's take a look at each product's distinct features that will streamline and enhance your signature-collecting process.
Benefits of Integrating Salesforce with DocuSign
There are some great options when it comes to integrating DocuSign and Salesforce, each with its own unique benefits. However, there are some benefits that these integrations all share when it comes to improving your signature-collecting experience.
Use DocuSign directly in Salesforce: Eliminate the need to constantly switch between platforms by bringing DocuSign capabilities into your Salesforce org.
Reduce data entry errors: Because these integrations pull information directly from your Salesforce org, there is no need to enter it in two different places manually. This simultaneously ensures accuracy and reduces busy work.
Reduce turnaround time and get documents signed faster: Not only do these integrations make your team's internal processes easier, they also improve the customer experience by getting contracts in their hands faster.
The Basics: Zapier
Zapier offers a DocuSign solution that is especially beneficial for existing Zapier users. Because Zapier spans across so many apps, its DocuSign integration with Salesforce has a pretty limited number of features. However, their billing model, which is based on completed actions rather than individual licenses, makes it a great fit for organizations of varying sizes. While Zapier's DocuSign features may be more basic compared to specialized solutions, they are remarkably quick to get started with. If your organization is already leveraging Zapier, integrating DocuSign becomes a straightforward addition to your workflow. However, if you don't already use Zapier, joining just for their DocuSign integration probably isn't worth it. You'll have to do some research to determine which of their other services your org can take advantage of first.
Price: $49 per month (2000 actions/mo)
Business Size: Unlimited users
Unique Benefits:
Automatically create Salesforce records when DocuSign envelopes are sent or completed: Ensure real-time synchronization of crucial information in your org.
Automatically create Salesforce folders for new Docusign folders: Reduce steps while keeping both systems up to date.
Create DocuSign signature requests for updated Salesforce records: Speed up the signature-collecting process.
Learn more about Zapier here.

The Easy Implementation: eSign Connect from Appiphony Apps
Of course, we are biased, but that's because we believe in what we build. eSign Connect is a DocuSign & Salesforce integration with no minimum license requirement, monthly & annual payment plans, and a self-service checkout method so that you can customize your subscription easily. eSign Connect is an excellent option if your organization needs a specific number of licenses and doesn't plan to build out any custom APIs.
Price: $12 per user/month (when billed annually)
Business Size: Any
Unique Benefits:
Automatically save documents in Salesforce once they are signed: Stay organized by setting exactly where you want copies of completed files saved, making them easy to find even after the signing process is complete.
See live envelope status updates on Salesforce Records: Know exactly where a contract is in the signing process directly on the relevant Salesforce Record.
Compatible with any existing DocuSign plan: Keep using what works for you. There is no need for you to upgrade your current plan.
Learn more about eSign Connect here.

The Industry Giant: DocuSign eSignature for Salesforce
While the name-brand integration of DocuSign and Salesforce may initially seem like the obvious choice, but it's not necessarily the best for every organization. DocuSign does provide a robust set of features, especially if you require a significant number of licenses. However, it's important to note that to access the DocuSign integration for Salesforce, you must subscribe to an Enhanced Plan from DocuSign. This subscription unlocks additional features, like document generation and their Apex toolkit, but the cost associated with this plan (in regard to both time and money) may pose a challenge for smaller organizations, potentially making another integration option a more suitable choice.
Price: $30 per user/month (Unlimited envelopes) + Enhanced Plan
Business Size: 50+ users
Unique Benefits:
Generate contracts using custom templates: Because you are required to be on an Enterprise tier of DocuSign, their document generation feature comes alongside their Salesforce integration.
Integrates with Slack: Streamline communication even further by viewing envelope statuses on Slack.
Build your own custom processes:  With DocuSign, you get access to their eSignature API, enabling you to really dig deep and build processes specific to your organization's workflow.
Learn more about DocuSign here.

Summary
Ultimately, your choice of DocuSign integration depends on your organization's size and scale. The number of licenses you need to purchase and how many contracts you send out in a given month greatly impact which plan is right for you. Another essential element to consider is where those contracts are created and stored. Apps like eSign Connect are designed to work in tandem with apps like Drive Connect and Google Workspace. While others may require you to store your files in Salesforce, which can get pricey.
If you're a visual learner like me, check out the chart below to directly compare the features of these three integrations!
| Features | Zapier | eSign Connect | DocuSign |
| --- | --- | --- | --- |
| Create Salesforce Objects from completed envelopes | | ✓ | ✓ |
| Create Salesforce Leads from completed envelopes | ✓ | ✓ | ✓ |
| Create DocuSign signature requests for updated Salesforce records | ✓ | ✓ | ✓ |
| Create Salesforce records for new DocuSign folders | ✓ | ✓ | ✓ |
| Send Envelopes | | ✓ | ✓ |
| View Envelope Status | | ✓ | ✓ |
| View Recipient Status | | ✓ | ✓ |
| View in DocuSign | | ✓ | ✓ |
| Auto-Save Documents to Records | | ✓ | ✓ |
| Integrate with Google Drive | | ✓ | ✓ |
| Envelope Status Reporting | | ✓ | ✓ |
| Apply DocuSign Templates | | ✓ | ✓ |
| Auto-Assign Recipients | | ✓ | ✓ |
| Copy DocuSign URL | | ✓ | ✓ |
| Generate Documents | | | ✓ |
| Integrate with Slack | | | ✓ |
| Build custom processes with DocuSign APIs | | | ✓ |
If you're interested in trying out eSign Connect, you can try it free for 14 days with no credit card required.
Try eSign Connect for Free
You can use the app for 14 days with no credit card required.