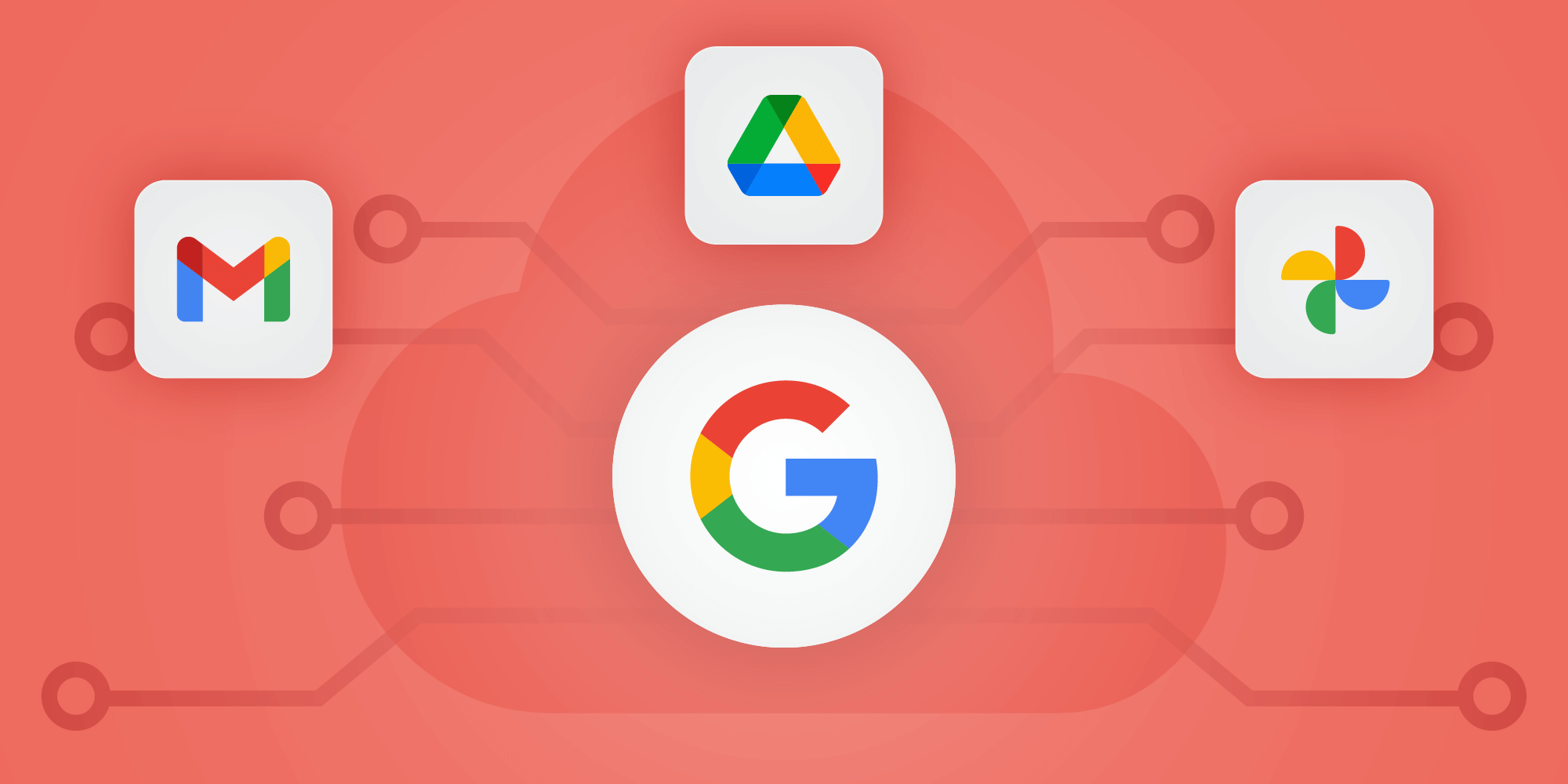 Got questions about storage in Google Workspace? Look no further! The team at Drive Connect has learned a thing or two about this stuff over the years, and we're here to walk you through the ins and outs of Workspace storage. We'll show you how to monitor your organization's storage usage and limitations, how to buy additional storage, best practices for setting storage limits on groups and individuals within your org, and even how to access unlimited storage. Ready? Let's dive in!
What is Google Workspace storage?
In this post, we'll be covering questions specific to Google Workspace storage, which differs from some other Google storage offerings you might be familiar with:
Google One isn't a business solution – it's Google's upgraded storage option for individual users, allowing you to add up to 2 TB of storage to your personal Google account. If you're an email hoarder or a photography enthusiast, you've probably already been prompted to subscribe to a Google One plan.
Google Cloud Storage isn't where your Google Drive files live – it's a cloud storage solution that is most appropriate for storing web content, data objects, backups, and other data that users don't directly access and collaborate on.
Google Workspace storage is pooled, meaning that it's shared between all users of the Workspace org unless an admin specifically sets limits on individual user groups or organizational units. Your organization's Workspace storage usage includes files stored in Gmail, Google Drive, and Google Photos – that means everything you create in or upload to those apps, including content in shared drives and the Trash. It doesn't include Drive shortcuts, files shared from outside your organization, and a handful of other content items. For more on that, check out Google's complete list of what does and doesn't count towards Workspace storage.
What is my Google Workspace storage limit?
The amount of storage allocated to your Google Workspace organization depends on your Workspace edition and the number of user licenses associated with your org.
Workspace editions range from Essentials Starter, a bare-bones free option that doesn't include Gmail & limits your storage and Meet capabilities, to Enterprise Plus, the single most powerful (and most expensive) edition offered. To see which edition your organization is subscribed to, log in to the Google Workspace admin panel and go to Menu > Billing > Subscriptions.
Again, the per-user storage associated with them is pooled, meaning that it's shared between all users of the Workspace org rather than allocated specifically to a single user.
Here's how that breaks down as of Summer 2023:
Essentials Starter
Business Starter
Business Standard
Business Plus
Enterprise Standard
Enterprise Plus
Storage Per User
15 GB
30 GB
2 TB
5 TB
5 TB+


(it's complicated)

Price Per User / Month


(Billed yearly)

$0
$6
$12
$18
$23
$30*
Price Per User / Month


(Billed monthly)

$7.20
$14.40
$21.60
$27.60
$36*
Source: https://workspace.google.com/pricing.html & https://workspace.google.com/essentials/
* Google is cagey about the exact storage capabilities and pricing of their Enterprise products, but these were the rates we were offered upon signing up for a new account in May 2023. Check your Workspace billing panel or contact a Google sales representative to see if you're eligible for a better rate.
What happens when you run out of storage in Google Workspace?
When you initially hit your storage limit in Google Workspace, you'll get a warning, explaining that you've exceeded your pooled storage limit and you've got a certain amount of time to either free up or get more storage. When that grace period ends, your account will enter read-only mode – you won't be able to upload or create new Docs, Sheets, Slides, or Forms; you won't be able to add files to Drive, and your ability to send emails may be impacted. You'll still be able to view existing files and emails, but your Workspace account won't be usable for ongoing business.

Freeing Up Storage in Google Workspace
If you're approaching your Workspace storage limit, your first step should be to delete as much unnecessary usage as you can. Luckily, Google makes it easy to see what – and who – might be eating up all your storage. To see an overview of your org's storage usage, log in to the Google Workspace Admin panel and go to Menu > Show More > Storage. You'll be able to see which apps, shared drives, and individual users are using the most storage in your organization; you can even drill into the wall-of-shame lists of top users and shared drives to see what can be deleted, who might need a poke to delete some of their old emails, and which users flat-out need storage restrictions placed on their accounts.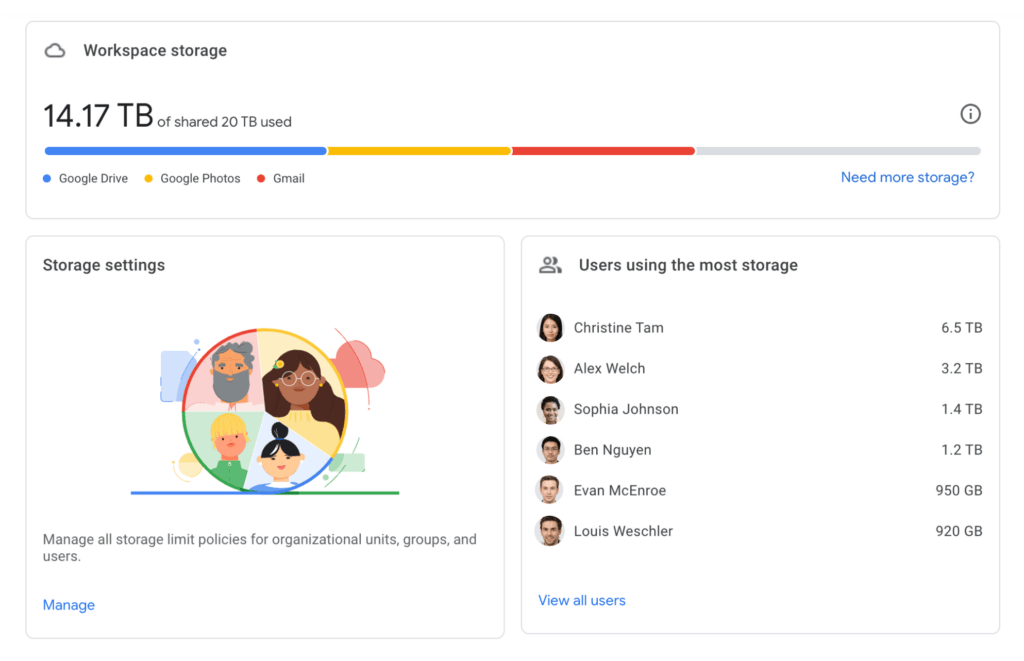 Source: https://admin.google.com/ac/storage
Setting Storage Limits in Google Workspace
If certain users are using a little more than their fair share – or if you simply want to allocate your pooled storage, which Google recommends – you can set storage limits for users and shared drives from the Google Workspace Admin panel. To do this, go to Menu > Show More > Storage, find the Storage Settings panel, and click Manage. Here, you'll be able to assign storage limits to any Organizational Unit or Group in your org. This means that you can't just slap restrictions on a single problem user – you'll need to create an Organizational Unit or Configuration Group of shame to add them to.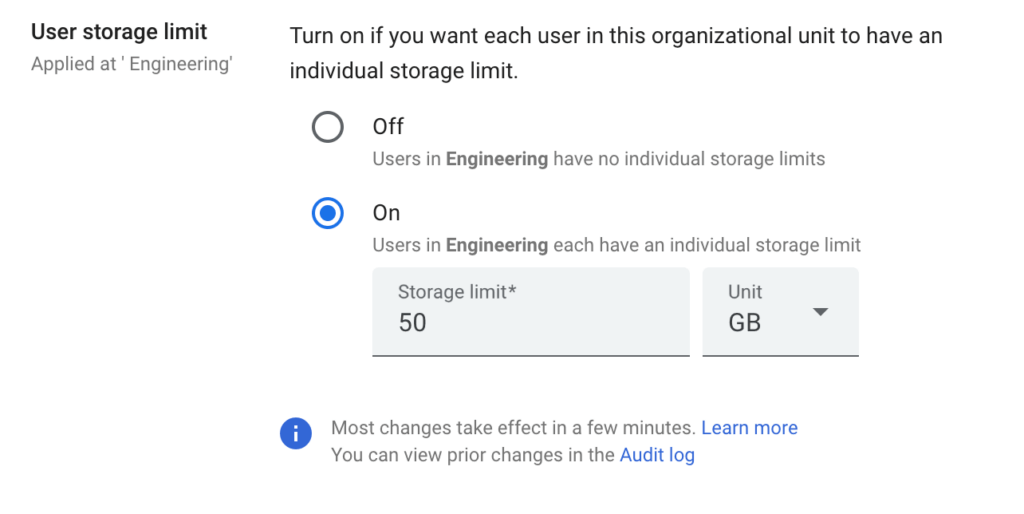 Source: https://admin.google.com/ac/storage
Adding Storage in Google Workspace
If you really need additional storage, your best bet is usually to upgrade your Workplace edition, which will at least double the amount of pooled storage available in your org. To do this, go to the Google Workspace Admin panel and go to Menu > Billing > Get more services. Here, you'll be able to compare plans and select one to upgrade to.
You also have the option to purchase standalone blocks of additional storage without bumping up your Workspace plan. To do this, log in to the Admin panel and go to Menu > Billing > Get more services > Google Workspace add-ons, find the Google Workspace Additional Storage panel, and click Get Started. You'll be able to add additional pooled storage to your org in increments of 10 TB at a rate of $300 per month. It's important to note that this rarely makes more financial or practical sense than simply upgrading your Workspace edition – run the numbers to see if it's the right call for your situation.
How do I get unlimited storage in Google Workspace?
Well…it's complicated. Until 2020, Google Workspace was known as G Suite, and offered a G Suite Business tier that included unlimited storage for $12/user per month. Not bad! Sadly, the good times came to an end after the rebrand to Google Workspace, when Google migrated existing G Suite Business accounts to its new Google Workspace Enterprise Standard edition. While Workspace claims to still offer "as much space as you need" for its top-tier Enterprise plans, it comes with a catch these days.
See, Google Workspace's Enterprise editions are designed for large companies with demanding storage, security, and videoconferencing needs, and they're priced accordingly for new users. But they're also used by tons of small-scale organizations that just got bumped up from their legacy G Suite Business accounts – not just small businesses, but random guys on Reddit who are hoarding countless terabytes of high quality Blu-Ray rips and lossless audio files.
Here's where the "unlimited storage" thing gets tricky. While Enterprise organizations are eligible to receive unlimited storage on top of their allotted 5 TB per user, they can only get it if they have 5 or more user licenses. For a large organization, that's no big deal. But for a Workspace organization used by a single person, that bumps up the price of unlimited storage from $30 per month to $120 per month – 10x the price you'd pay in the good old days of G Suite. Pretty brutal! You also have to have to email a Google sales rep to bump up your storage every time you hit your limit – 10 TB at a time – which is merely annoying.
So for now, yes, you can get unlimited storage with Google Workspace Enterprise Standard and Enterprise Plus, but it'll cost you. Some storage superusers are convinced that Google is eventually going to continue their war on data hoarders by getting rid of support for unlimited storage altogether – take that as you will.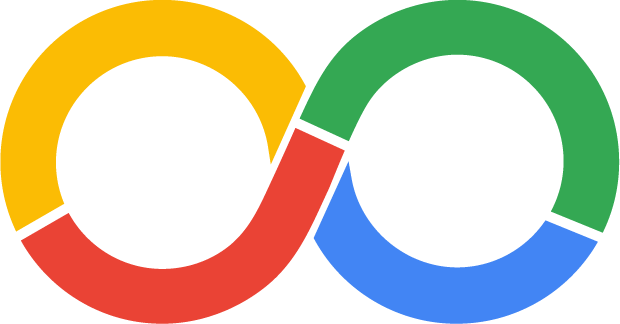 How can I use Google Workspace storage with Salesforce?
Okay, kind of a curveball, but glad you asked! Even if you can't use Google Workspace to store 200 TB of anime soundtracks for 12 bucks a month anymore, it's still not a bad value for enterprise file storage – especially compared to what you'll pay for Salesforce's own storage solutions. With that in mind, we built Drive Connect to take advantage of Workspace's superior file storage and management tools, allowing you upload, delete, view, and edit Google Drive files directly from Salesforce.
Drive Connect is an easy-to-use Salesforce app that sets up in minutes and allows you to seamlessly integrate Google Workspace functionality into your existing Salesforce workflow – and it's free for 14 days with no credit card required. Start your free trial today and try it for yourself!
Link Google Drive Storage to Salesforce with Drive Connect
You can use the app for 14 days with no credit card required.