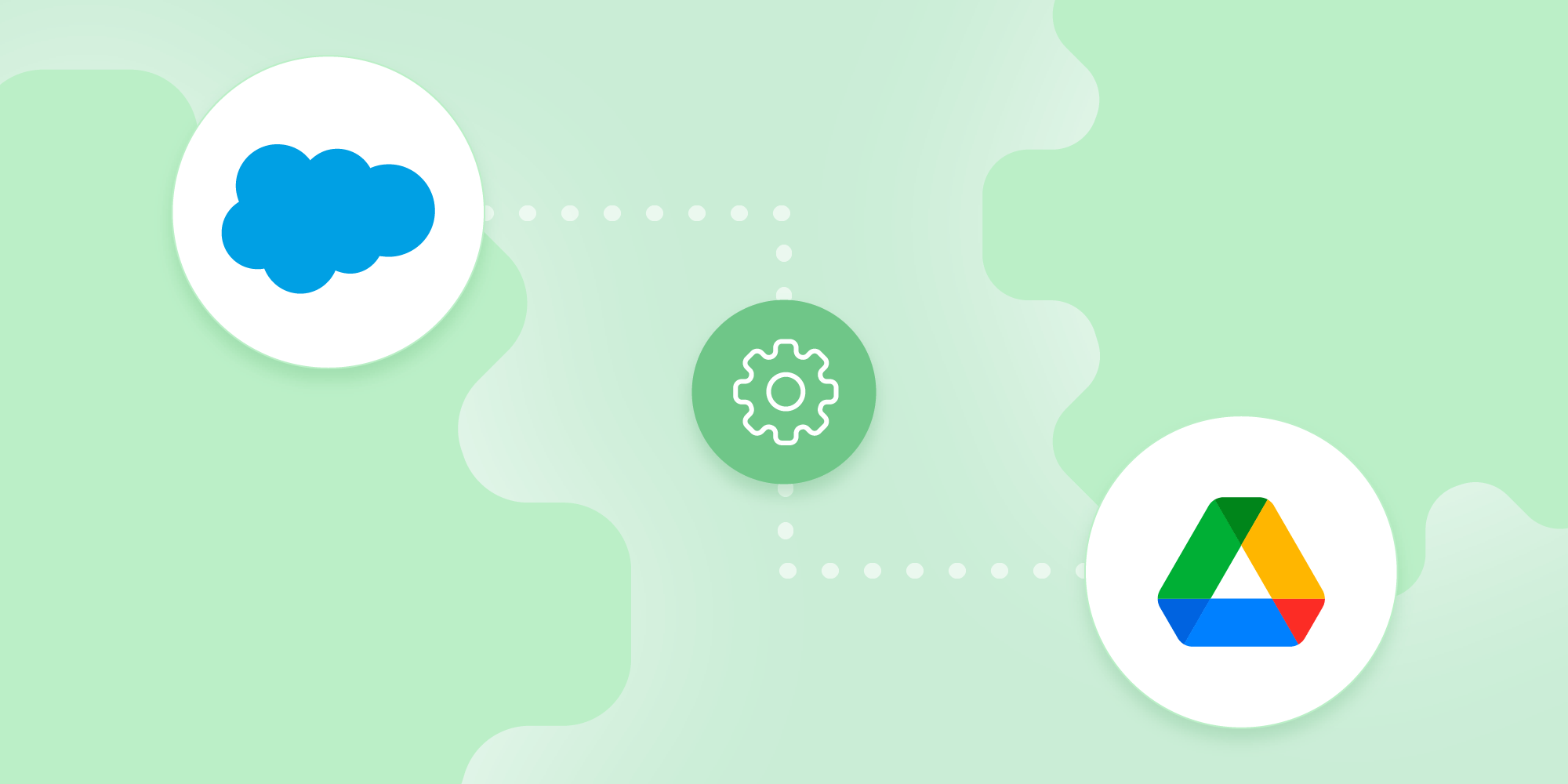 We all want to work smarter, not harder, but that can be tough when operating within two different services, especially those as vast as Salesforce and Google Drive. Integrations like Drive Connect allow you to condense these workflows and improve the way you work. There can be a lot of moving parts, so let's take a look at some of the best practices when preparing for an integration with Salesforce and Google Drive.
Benefits of Integrating Google Drive and Salesforce
Increase productivity
The tedious back-and-forth of switching between Google Workspace and Salesforce takes a serious toll on your productivity. Combining these into one workflow lets you cut out the busy work and focus on what matters.
Save money on file storage
Storing your files in Salesforce is not cheap! (You can learn more about that here

). Integrating allows you to save files in Google Drive while still having access to them within Salesforce.

Organize files and folders across your organization
A Google Drive integration allows you to access files from Docs, Slides, and Sheets directly from Salesforce record pages, meaning there is no need to wander off searching for a specific file.
Better meet the needs of your customers
With easier access to files and a streamlined workflow, you can more effectively communicate with your customers. Get them the information they need quickly and provide them with the best customer experience possible.
Enhance collaboration
Bring the collaborative nature of Google Workspace into Salesforce. Your team can still work on Docs, Slides, and Sheets, but now, all within Salesforce.

Those all sound great, but how do I know it's right for my organization?
Good question! Here are a few things to consider when evaluating if a Google Drive & Salesforce integration is right for your organization.
Your workflows include documents
If documents play a significant role in your day-to-day customer interactions, using an integration tool allows you to manage those files easily.
Your customer data & files are siloed
If your customer data lives in Salesforce and your customer files are in Google Drive, an integration tool like Drive Connect eliminates their isolation and allows them to work in tandem.
Your workflow is interrupted by unnecessary file management
You frequently transition out of Salesforce to search for or create documents in Google Drive.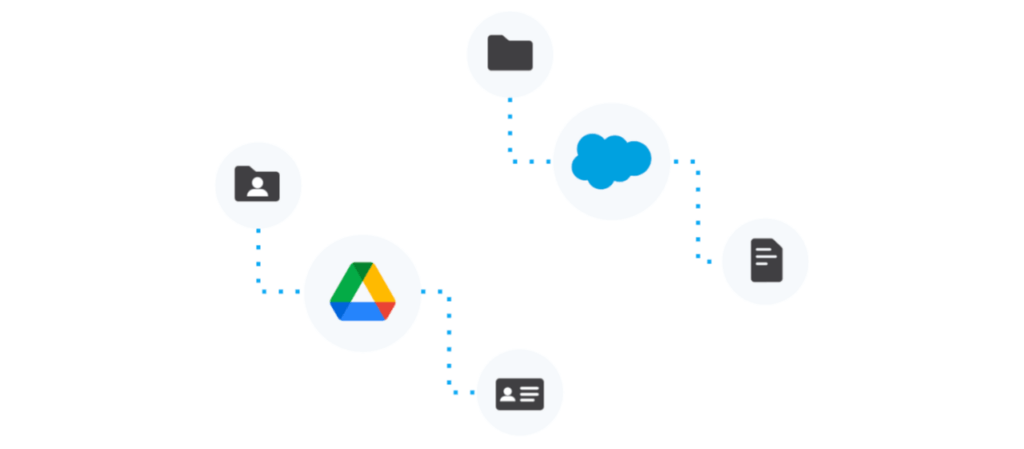 Examples of Google Drive & Salesforce integration workflows
Let's take a practical look at how a powerful integration tool like Drive Connect can assist your workflows.
Creating a doc or folder in Drive from a Salesforce record
This is usually done by manually jumping between Salesforce and Google Drive, but Drive Connect does it automatically using Salesforce Flow.
Finding a doc or folder in Drive from a Salesforce record
Typically, you would have to leave Salesforce and dig through all your customer folders to find the document you're looking for. With Drive Connect, you can associate those files directly with a record, making them easy and natural to find.
Opening a doc or folder related to a record from Salesforce
Drive Connect lets you utilize a built-in file viewer to edit your Doc, Sheet, or Slide directly in Salesforce. This way, there's no need to constantly switch between tabs.
Sending a doc in Google Drive to a customer
Drive Connect has a custom send functionality that allows you to send the doc directly from Salesforce, meaning you don't have to navigate out of Salesforce to locate and send the doc.

4 steps to prepare for a Google Drive & Salesforce integration
Let's take a step back and look at the individual pieces you should assess in order to successfully plan a Google Drive and Salesforce integration.
Objects
Start by listing the Salesforce objects that you most often associate to documents and folders in Google Drive.
Documents
Now, list the types of documents you typically link to Salesforce records. This can be broken down into two different types:

Dynamic documents- Documents regularly created using Salesforce data that change for each customer (i.e., NDAs, contracts, quotes, etc.)
Static documents- Documents that don't change and you send to customers in Salesforce. (i.e., sales collateral, marketing material, eBooks, etc.)

Folders
Next, review your folder structure in Google Drive. Consider which Salesforce objects you most often associate with these folders.
Workflows
Catalog your manual workflows in Salesforce that heavily involve documents in Google Drive.
Calculating Workflows
Now that you've cataloged the individual pieces, the next step is to review the workflows and components within your organization. You can map this out with Drive Connect's Integration Canvas, a free tool to help you outline the process of your workflows.
If you want to learn more about this process, check out the Salesforce & Google Drive Best Practices webinar led by Appiphony CEO George Kenessey.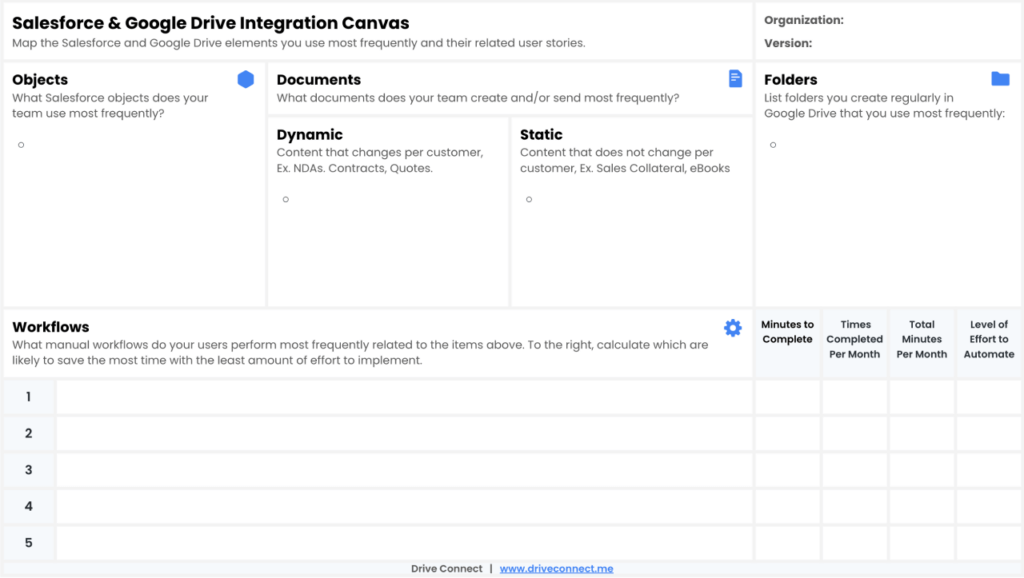 Click to open the Salesforce & Google Drive Integration Canvas
Start your integration
Now that you've done the prep work, it's time to integrate! There are lots of options, but in our (biased) opinion, there is no better option than Drive Connect.
Drive Connect is a user-friendly Salesforce app that seamlessly connects your files and folders in Google Drive to Salesforce. It enhances your workflow by enabling you to send files, automatically create folders, and generate documents, all from within the Salesforce user interface. Additionally, you will have access to our reliable and dedicated support team every step of the way.
So plan your next steps using our Integration Canvas and begin your 14-day free trial to start optimizing your organization's workflow.
Try Drive Connect for Free
You can use the app for 14 days with no credit card required.