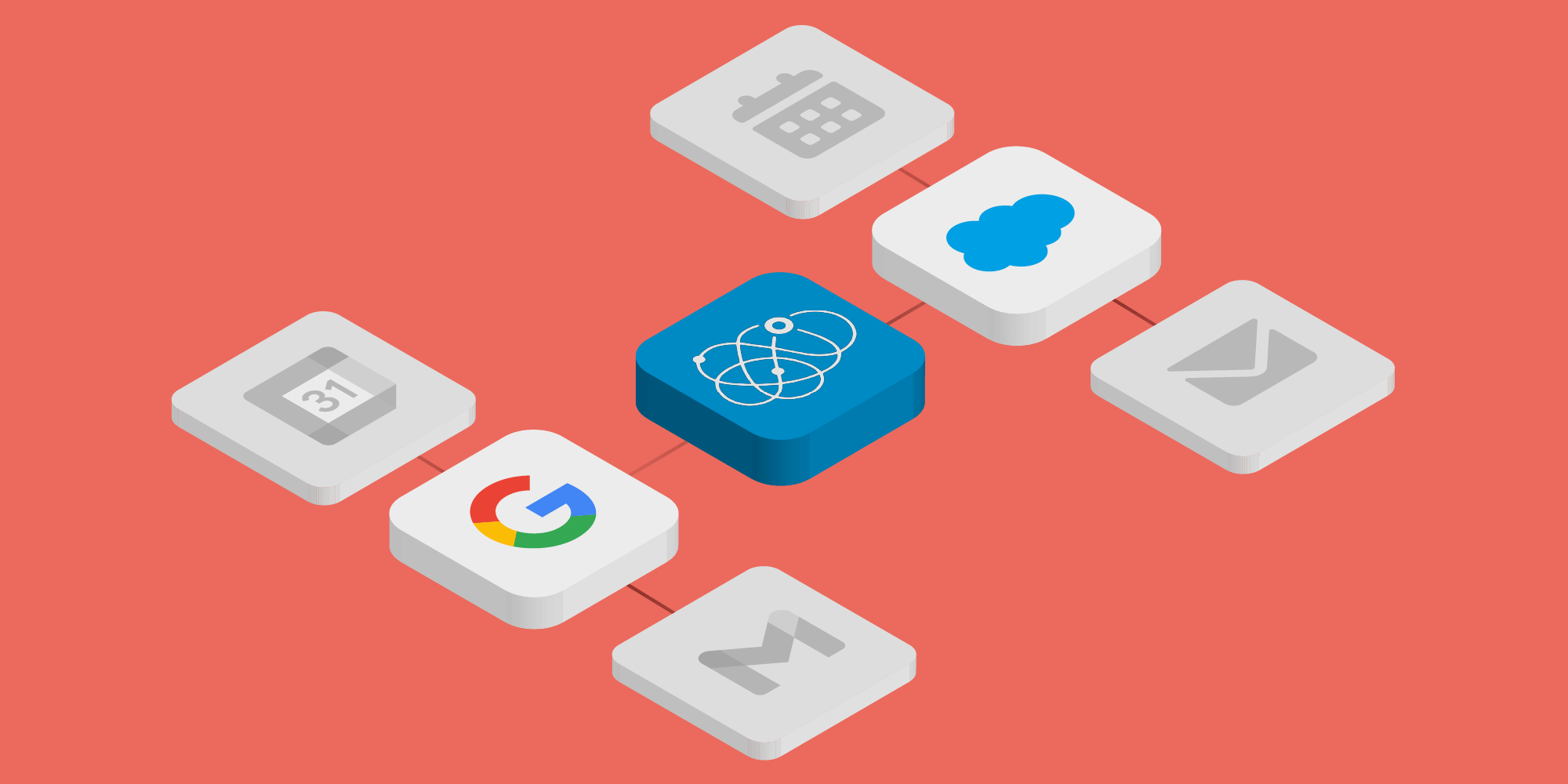 If you're researching solutions for connecting Salesforce with Gmail and Google Calendar, you've probably run across Einstein Activity Capture (EAC), Salesforce's built-in tool for syncing with third-party email and calendar apps. While Salesforce supports EAC with extensive documentation and even a Trailhead badge, the sheer amount of information on the topic can be overwhelming. Here, we'll walk through the essential questions you need answers to before getting started with EAC in your Salesforce org.
What Is Einstein Activity Capture?
Let's start with the basics: Einstein Activity Capture is a tool that allows Salesforce users to automatically sync Emails, Events, and Contacts (oh my) between Salesforce and external Google or Microsoft email and calendar applications. It's free for up to 100 users with Sales Cloud Professional & Enterprise editions, and it's available in a fuller-featured form for unlimited users as part of Performance or Unlimited Editions or a Sales Cloud Einstein, Inbox, Sales Engagement, or Revenue Intelligence license.
How Much Does Einstein Activity Capture Cost?
Again, most of the features of Einstein Activity Capture are free for up to 100 users with a Sales Cloud license via the Einstein Activity Capture Standard feature set. For unlimited users and some additional functionality, you'll need to upgrade to Performance or Unlimited editions, or a Sales Cloud Einstein, Inbox, Sales Engagement, or Revenue Intelligence add-on license. Note that Einstein Activity Capture is not available as a standalone license – to use the full-featured version, you'll need to purchase one of the products mentioned earlier.
Einstein Activity Capture Standard vs. Einstein Activity Capture Add-On
So is it worth it for your organization to add on a product that includes the full version of Einstein Activity Capture? Well, if you need to assign EAC access to more than 100 users, it's a no-brainer. But if you're a smaller org that only needs access to its sync features, the decision is a little murkier. Let's take a look at how the two versions of EAC handle some of its more advanced features related to reporting & activity insights:
Feature
EAC Standard
EAC Add-On
User Assignments
Up to 100 Sales Cloud users
Unlimited users with the appropriate Salesforce edition or license
Data Retention
3 to 6 months; up to 6 months of activity can be displayed on the activity timeline.
3 months to 5 years; up to 18 months of activity can be displayed on the activity timeline.
Activities Dashboard
Available in read-only mode. Dashboard data is limited to the past 90 days.
Varies by license and edition, but in all cases dashboard data is limited to the past 180 days.

Inbox: Full access for up to 5 users; read-only access for all other Inbox users

Sales Engagement: Full access for up to 3 users; read-only access for all other Sales Engagement users

Sales Cloud Einstein: Full access for all Sales Cloud Einstein users

Revenue Intelligence: Full access for all users with the Revenue Intelligence Admin permission set

Performance & Unlimited Editions: Full access for up to 3 Sales Cloud Included users; read-only access for all other Sales Cloud Included users

Einstein Email Insights
Available but not on by default if you only have Einstein Activity Capture Standard users in your org.
Available and on by default for all EAC users if you have at least one Einstein Activity Capture user in your org.
Custom Einstein Email Insights
Not available
Available
Recommended Connections
Not available
Available on Contact and Lead records
Einstein Activity Capture vs. Lightning Sync
If you're a longtime Salesforce user, you might look at EAC's feature set and think "hmm…sounds a lot like Lightning Sync!" Lightning Sync is Salesforce's previous built-in tool for syncing with Gmail and Microsoft Outlook; as of the Winter '21 Salesforce release, it's been phased out and replaced with Einstein Activity Capture.
Salesforce has its own list of reasons to use Einstein Activity Capture over Lightning Sync, but frankly, in many cases, you don't have a choice. You can still set up and use Lightning Sync if your Salesforce org existed prior to Winter '21, but if you're a new customer, it's EAC or nothing.
Even if you're working in a org that has grandfathered-in access to Lightning Sync, it's worth your while to get familiar with Einstein Activity Capture and the process of transition between the two products. Salesforce is all-in on EAC and has transitioned Lightning Sync to maintenance mode (note their assurance that "in most cases, your sales reps don't notice the change," like you're switching to a new brand of cat food). Even if Salesforce never fully retires the product, they're done releasing new features and updates for it.
Update (03/31/23): Lightning Sync's days are officially numbered, but you can't say they're not giving you fair warning. As of March 2023, Salesforce has announced that the product will be retired "no earlier than January 2026," with a firm end-of-life date announcement to come "12-18 months in advance."
(You can take this announcement in one of two ways. One is to see that they're starting to get serious about setting an end-of-life date for Lightning Sync, and get hustling on the transition to Einstein Activity Capture. The other is to notice that this retirement date has actually been pushed back three years from an initial estimate of January 2023, and continue to procrastinate accordingly. Your call!)
How is Data Stored in Einstein Activity Capture?
One major security consideration we need to call out: Einstein Activity Capture stores captured data in Amazon Web Services (AWS) rather than Salesforce itself. This can be a major hiccup in a couple of different ways. There's the obvious security consideration: your organization may not be cool with storing data in an external silo like AWS. This can also present an issue with respect to internal reporting – AWS data is represented as virtual records on your Timeline, making them impossible to query and report on outside of the Einstein Analytics dashboard.
This isn't a dealbreaker for everyone – if you're less interested in reporting than in basic calendar and contact sync functionality, these considerations may not enter the equation for you at all. Either way, you'll want to read through Salesforce's guide to EAC limitations and considerations and review the Einstein Activity Capture Security Guide before getting started.
Einstein Activity Capture isn't perfect, but as of right now it's your best bet for setting up an automated sync of Salesforce with your Gmail and Google Calendar events & contacts. And if you're interested in integrating Google Workspace & Salesforce further, you've come to the right place – we built the best solution for connecting Google Drive with your Salesforce environment. Drive Connect sets up in minutes and is free for 14 days with a no-credit-card-required trial – get started now.
Integrate Salesforce with Google Drive in Minutes
Get started with Drive Connect for 14 days with no credit card required.